Big tits in sports presents: Shawna Lenae teases the judge with her amazing titties
Scene Title: Swimming with the Titties
Storyline: Shawna Lenee is ready for another Swimming Race. Scott Nails is attentively supervising the race to make sure everything gos smooth, but is distracted by her big tits floating on the water. After a fight breaks up between the swimmers, he has to intervene and stop it at once. To make it up for her rude behaviour, Shawna will let Scott get a closer look at her titties and fuck them for a Gold Medal of her own.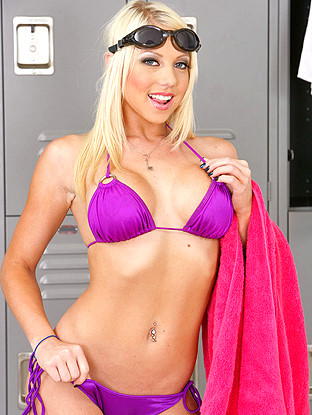 Shawna Lenee BigTitsInSports HD Video Trailer
What people are saying about: Shawna Lenee - Swimming with the Titties bigtitsinsports scene
Comment #1
aashebjuw said: Shawna Leene shows great swimming skills. Now can she show some diving skills for underwater bj's and pussy eating. What a hotter scene it would have been if she her competitors pussy underwater.
Comment #2
mikesteed said: Shit, if I was fucking Shawna I would have came two times as well. Maybe three!!!!!!
Comment #3
BiV_aka_funkdoc said: There are a lot of scenes I have not caught up with yet, but I had to skip em for Shawna. Seriously, there may not be a better total package in the game imo - looks, performance, body, even her acting is great. Weird to say, but she looks as good with clothes on standing there are she does getting dicked. Decent setup, but the sex was great, and Nails lived up to his name no doubt. Of course the double pop is always cool. Best position was rcg, unreal.
Comment #4
daviddag12 said: Shawna is so fucking awesome , she gave up the best scene on this big tits in sports site ! She swallowed TWICE ! Her and Amy Reid are my very most favorites , i would loveeeeee to see them do a scene together .....ok i'll stop now its just Shawna i get excited when i see she has a scene coming up , PLEASE tons more of her and soon !!!!
Comment #5
MissSnoogans! said: Now this was a way better story from BTIS. It appears anytime two chicks are competing that it's gonna be a catfight. Both chick sold the acting for me. Though I've never said but that arm sleeve is fucking hot on Scott. It reminds me of the one Seth Gecko had. Since Scott pulled the double cumshot. That would have been the perfect time to get a piledriver in on that first nut. I mean since she swallow it might as well be somewhat forced. Nice doggy both times I saw it. Snoogans!
Shawna Lenee BigTitsInSports Picture Gallery