Big tits in sports presents: Memphis Monroe gets a bat and a pair of balls to play with
Scene Title: Take Me Out To The Boob Game
Storyline: Memphis is taking batting classes from instructor Charles Dera but all she seems to be interested in is sticking his baseball bat between her big round softball sized tits!!! Batter up!!!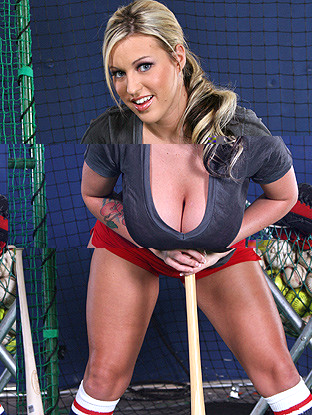 Memphis Monroe BigTitsInSports HD Video Trailer
What people are saying about: Memphis Monroe - Take Me Out To The Boob Game bigtitsinsports scene
Comment #1
roulette said: This is my favorite scene from this entire network. My favorite thing about it was the fact that she's a thick girl wearing the right kind of knee high socks. All the camera angles were just right. The knee high socks were in most of the shots which I really love.You know on different scenes I've been mentioning there needs to be a site dedicated to knee high socks with hardcore action. I know that such a request is a long shot, but at least on big tits in sports there should be more knee high socks since it is dealing with sports. I mean, why is it on bigtits in school most of the scenes involve a plaid skirt? If there can be a plaid skirt in almost every scene on that site then there can be knee high socks in almost every scene on this one.
Comment #2
tdub512 said: I'd have to say this was one of her best big tits in sports scenes. When she whips out those fucking whoppers of hers and blows some cock, that was some hot shit.
Comment #3
joedan4 said: Amazing Memphis!! Definitely love the pussy eating and dirty talk - particularly her saying "cunt" - a big turn on for me since it is so rarely said these days - periodically by Nikki and usually once per scene with Brittany O'neil, but hard to find. Taylor Wane (not here unfortunately) is the champ at talking dirty, but hopefully Memphis will keep it up.
Comment #4
BiV_aka_funkdoc said: Good work in getting a batting cage for the set, very nice. Like everyone else, I gotta praise this scene too. Loved MM's outfit, and watching her stretch in the beginning was enough to get me started. Then her dirt-talk game was at a new level for her. It's usually better than average, but it was niceee here in this scene. Solid fucking. Very good scene overall
Comment #5
Strider12471 said: Excellent big tits in sports scene Memphis! Sexy as ever, thick in all the right places. Love the tits and ass, the dirty talk. Wished there was more titfucking, it's becoming a lost art around here, but some was better than none. Took the cumshot like a pro. There has to be a Memphis scene every month! Keep Memphis Monroe scenes coming brazzers! She's a top tier pornstar on the site.
Memphis Monroe BigTitsInSports Picture Gallery