Big tits in sports presents: Alanah and Nikki titty wrestle for a hard cock
Scene Title: From Whip Lash To Tit Lash to Splish Splash
Storyline: Nikki Benz & Alanah Rae have faced off many times before in the ring. Today is the day they put their experiences aside and fight for what they are really longing for. The sad news is there is some confusion about the victor, therefore the ref decides that the girls will play a new game Tit lash whoever uses their tits to make Scott cum, Wins!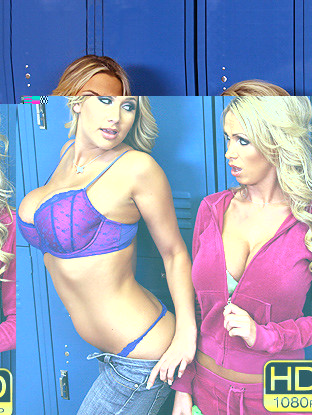 Nikki Benz and Alanah Rae BigTitsInSports HD Video Trailer
What people are saying about: Nikki Benz and Alanah Rae - From Whip Lash To Tit Lash to Splish Splash bigtitsinsports scene
Comment #1
cdhombre69 said: Don't get me wrong. I fuckin' love Nikki Benz. But Alanah Rae is clearly hotter. Hell, she has shot all the way up to my top 5 (w/Eva Angelina, Madelyn Marie, Diamond Foxx, and Rachel Starr. Shit, make that 6 cuz Phoenix Marie has to fit in somewhere... oh shit again, gotta have Memphis Monroe so make it my top 7). I love Alanah's tongue ring. Would love it more against my cock :-) This is a great scene. Loved the catfight. More Alanah, Brazzers, please!!!!!!!!
Comment #2
gans said: I love these locker room verbal catfights. I like knowing who is quicker and smarter in the ad-lib department. You know a thought occurred to me while viewing simply red hot scene. This was almost like a passing of the torch. By no means do I mean that in a bad way toward Nikki. The Benz is the driving force in porn. She's sleek, fast, and fun just like I knew she'd cheat to win. Not only did they look glamorous hot, they also fucked that way. Not as much triangle as I like to see but it wasn't too bad. The reverse cowgirl and regular cowgirl was a contest between the two from what I saw. They weren't backing down for shit. Alanah just pulled away with this with her doggy. Nice creativity with the game and super hot ending with them kissing like that. Scott keep on strokin baby. Snoogans!
Comment #3
Grazzt said: Eh... putting Alanah next to Nikki just shows how soft and natural (I mean in looks, not in bust enhancement) Alanah's beauty is, and how artifical Nikki seems. IMHO, this pair was not well matched. Definitely keep Alanah coming back for more scenes, though!
Comment #4
barbs337 said: Great scene!... two of the hottest stars today getting down and dirty! and LMFAO at scott nails at the end after banging Alanah with the "I want a drink" comment lol
Comment #5
Don_Tomas said: OMG! one of the best scenes ever. Great action, love those 2 beautiful hotties with the ginormous tits! HD was excellent...all good.
Nikki Benz and Alanah Rae BigTitsInSports Picture Gallery