Big tits in sports presents: Gorgeous Jayden fucks her archery teachers hard
Scene Title: Boobs n' Arrows
Storyline: Jayden takes archery lessons from Keiran and eventually challenges him to a contest. Keiran is easily distracted by boobies, so obviously he loses and then obviously he fucks her, cause what else is he gonna do? Just give her an archery lesson and then they both go their separate ways? Pff! If that were the case, I wouldn't want to live in this world.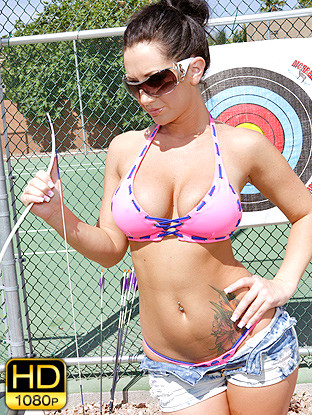 Jayden Jaymes BigTitsInSports HD Video Trailer
What people are saying about: Jayden Jaymes - Boobs n' Arrows bigtitsinsports scene
Comment #1
cherryferretti said: jayden james has one of the best pair of tits in the industry she makes me come so hard =] thnx jayden
Comment #2
digitalguy said: Not only is Jayden one of the finest and sexiest starlets on this site, she looks a lot like this girl from the Bahamas I know that's dating a friend of mine. Jayden's one of the few women in the industry where I've seriously considered flying to Vegas for the AVN or similar event just to see her with my own eyes and possibly meet her. This big tits in sports video could have been better, and I've seen better from her... but anything that's got her getting bent over or ridin' has my vote. Geez. The Onion
Comment #3
Jack66 said: I fucking love Jayden and her voice makes me that much harder! I love watching Jayden's big ass titties bouncing all over the place as she gets fucked hard by Keiran. That was great with Keiran slapping Jayden's face. Knowing they are friends makes the fantasy more believable, HOT! Jayden looks buff! Must be hitting the gym hard! I came like Peter North! Nice facial given to Jayden by Keiran!
Comment #4
smokewolf1 said: why does jayden have some anal tease in the pics but nothing in the video except for tongue and some fingering? i look forward to seeing her finally do anal anal. rachel finally did one and while could have been better positions was still good. nikki is really into it now and amazing. i havent seen memphis anal scenes but i know she has done them in video i just havent rented them to watch. would like to see audrey and shawna do them soon.
Comment #5
marcus99 said: She pretty much blows all the other girls on this site away. I'm not saying there aren't other hot girls...but Jayden is in a class all her own.
Jayden Jaymes BigTitsInSports Picture Gallery