Big tits in sports presents: Audrey Bitoni gets pounded hard in the locker room
Scene Title: Sprinting Tits
Storyline: Rocco and his friend spot Audrey running on the track. Audrey's big tits were bouncing all over the place and Rocco couldn't take it anymore. He goes to talk to her and is very surprised to find out how Audrey reacts when a guy compliments her tits...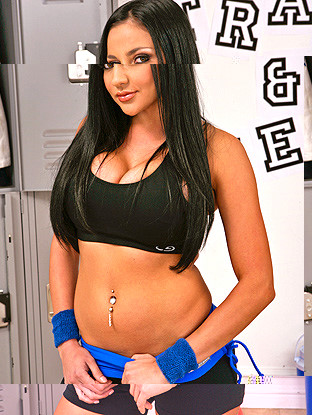 Audrey Bitoni BigTitsInSports HD Video Trailer
What people are saying about: Audrey Bitoni - Sprinting Tits bigtitsinsports scene
Comment #1
stugotts said: Ok... Audrey's titties are severely fucked up, we all know that. Actually, it's not even her tits, there are just some weird scars going on. That said, those of you who say you wouldn't fuck her are simply full of you know what. The girl is hot. And you're still watching her videos... so what does that say?
Comment #2
joe4dm1 said: Obviously we would all sleep with Audrey if we could. I do agree that she should keep the scars covered up. It is a shame but not a deal breaker. Audrey fucks good and that is the most important thing.
Comment #3
mst0477 said: Audrey, stay in shape keep exersizing. You are beutiful. Don't listen to those guy talking about scarz. There are no too visible scars on you and you could not possibly turn me off. You could not turn off any heterosexual man on the planet.
Comment #4
hiphil61 said: audrey, if i could fuck u one whole night, i wouldn't mind dying in the morning knowing that iv'e just fuck the hottest girl that ever walk on this planet! audrey please let me dye in the morning.
Comment #5
cucamo said: I use to love watching her so much but her boob job is really bad thats why the camera man was so far away
Audrey Bitoni BigTitsInSports Picture Gallery