Big tits in sports presents: Miss Valentine rewards her instructer with a dripping wet pussy
Scene Title: Fucking with a Long Spear
Storyline: Kory is trying to get his girlfriend Angelina focused for her fencing match but all she can think about is having sex!He is trying to get her to channel all that pent up energy into her fencing!Anyway Kory hires a pro to help her bring her game up before the match. So the two start to engage in one on one combat and she absolutely loved how he handled his long foil. So much so that she couldn't stop cumming and umm yeah they did find some time to practice also.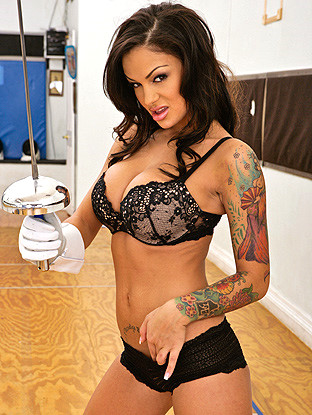 Angelina Valentine BigTitsInSports HD Video Trailer
What people are saying about: Angelina Valentine - Fucking with a Long Spear bigtitsinsports scene
Comment #1
funkdoc said: Nice dialogue in the beginning with Angelina and KF, seemed real. lol at the clothes ripping off. I wasn't all tha into Angelina when she first appeared here, but I am beginning to really dig her exotic face and awesome body. Nice fucking, especially that reverse cowgirl; she was bouncing on KL's dick like it was a pogo stick, damn. Then he plastered her with that $$ shot. Verrrnice
Comment #2
Jack66 said: Damn, Kory is a star now with all your appearances dude! Funny as usual, like he would not be hitting that Valentine ass?! Angelina looks smoking hot and her tattoos give her that bad girl attitude. It was way hot when Keiran cuts Angelina's outfit fencing and her big ass titties are hanging out! Perfect ass to eat, yum! This could have been RWS too! I love Angelina red and blonde streaks in her hair! Great POV makes me want to explode! Great deepthroating skills and what a great fuck Angelina is!!! Now thats a cumshot like someone was very excited to be fucking Angelina Valentine!!!
Comment #3
On January 24, 2009 at 4:33 PM, Adogggg2 said: amazing blowjob/deepthroat CHAMPION, superb cumshot, and terrific mangina ending. Although I dont think theres anything keiran can do to make me tolerate his obnoxious british accent.
Comment #4
skribs1 said: 1. About time they had a fencing video. I always wondered why they did not have a fencing video in Big Tits in Sports section. I mean it's such a popular sport and all, its a clear choice. 2. Angelina is my new favorite. Her on-screen performance is unrivaled. 3. Did she really deep throat Keiran like that? Hands down the best deep throat I have ever seen. She actually liked it, unlike most girls who do it whom look like they are in pain while they do it!
Comment #5
MissSnoogans! said: Great idea for a story. I really thought this site was not gonna be much at all. Last week with rocking climbing and this one about fencing have been very creative. The argument between Angelina and Kory was fantastic. They worked that to perfection. She was lava hot in those knickers. I'm glad this big tits in sports scene started with spooning cause I knew it would pick up steam later. Thank you for the camera angle on cowgirl. She was really getting into with her knees sliding side to side. Can't forget the POV of her sword swallowing trick. An great addition was the titfuck after the facial. Keiran is a great sport for tucking his cock, haha. Snoogans!
Angelina Valentine BigTitsInSports Picture Gallery