Big tits in sports presents: Ricki Raxxx loves man bats to baseball bats
Scene Title: Teach Me How to Hold a Hard Bat
Storyline: Ricki Raxxx decides to take baseball lessons so she could look like a professional in a music video she is going to star in. Ricki quickly gets the hang of it but she still feels her swing is not hard enough, so she makes her trainer teach her how to properly hold a big hard baseball bat.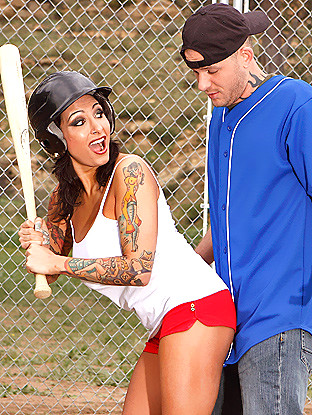 Ricki Raxxx BigTitsInSports HD Video Trailer
What people are saying about: Ricki Raxxx - Teach Me How to Hold a Hard Bat bigtitsinsports scene
Comment #1
lolazouniversal2 said: Ricki you're gorgeous. Your tits and your face makes me so hot. I'm waiting more of you...and there's something I would kill for..... a good massive cumshot in your opened mouth.
Comment #2
BiV_aka_funkdoc said: Not much of a story, but what I like was how Rikki didn't really act in the very beginning and it seemed very natural. She is fucking crazy hot and those tits are just unreal. The story wasn't much of one, but I was looking forward to the action. I was really looking forward to the outdoor fucking, but the camera angles and the constant moving was really annoying and I didn't enjoy it, and it looked like a struggle for Rikki too. Plus Scott was short-strokin not gettin full penetration, and I think it all was due to the camera angles with the sun and everything. Not to good yo.
Comment #3
jacko said: another great raxxx scene ... i'll never get tired of watching those big bouncing tits ... keep em coming :)
Comment #4
Dknight said: One of my favorite big tits in sports scenes, Rikki is so fucking sexing, great blow job in the beginning. She is a very sweet taste of sin! More of her Brazzers!
Comment #5
MissSnoogans said: I think my chick Eve Jeffers said it best "wife beater wit a bangin tan, walk in demandin all eyes baby here I am, ain't ashamed of my frame and I know you watchin, puttin on a show for you Pop I ain't stoppin". I was loving the nipples poking through the top and shorts up her crack or like we say in the derty mail in your box. I'm not too sure she will ever be a great pornstar. She got the giggles when Scott ate her from behind. She's not real good about keeping her hair out of the way. What did impress me was her riding skills. When she mounted up and made that noise like oh shit he's too big for this shit. She stuck with it and rode it on out into the sunset. The only thing this scene lacked was help from the sun. Lighting was dark at times but still stellar scene. Snoogans!
Ricki Raxxx BigTitsInSports Picture Gallery