Big tits in sports presents: Puma Swede flashes her titties and wins the hockey game
Scene Title: Tits N Sticks
Storyline: Puma Swede, aka Tits, is one rough feline at floor hockey!!! When she gets aggravated, better watch out because she uses full power to throw your ass on the floor!! Keiran will teach her a thing or two about getting roughed up though!!!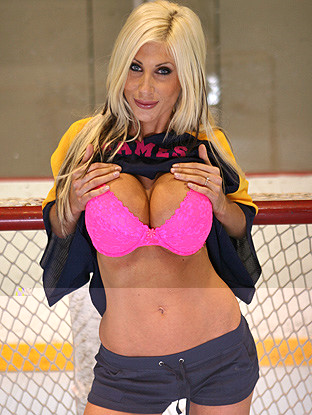 Puma Swede BigTitsInSports HD Video Trailer
What people are saying about: Puma Swede - Tits N Sticks bigtitsinsports scene
Comment #1
rockstar241 said: Damn Puma is hott as hell!! i would love to lick her sweet pussy and asshole out!! and after fuck the shit out of her tight little asshole!! i want her sweet juices all over my face!!! More Puma...
Comment #2
BiV_aka_funkdoc said: I had to watch this for the dynamic duo, and the hockey setup. lol how she attacked him from behind. Now this is was some animal-type sex here. Keiran banged Puma on top of, against, and under, that whole locker room. I love watching Puma, she is one of my all time favorites. But knowing that these 2 go at it for real made it kinfa less exciting for me, kinda lessened the fantasy, idk. Nonetheless, shit was still intense and how can you not love the $$ shot straight back to doggy? haha
Comment #3
BROK3N said: he fucked this bitch so hard. he fuckin busted a nut in her face and turned this bitch over and fucked her again. this was some funny and crazy shit but this is how all bitches should be fucked for sure.
Comment #4
gharo721 said: this was the best big tits in sports scene so far on brazzers,KL in my opinion is best guy on brazzers at least he act and perform well .as far as puma's voice,she is a porn star not a singer, specially in this scene she gave a litle extra to it which was great. this scene was the only one I ve watched from a to z twice it was original and lacked the stupid way brazzers girls wow the big dick. one thing i hold against brazzers is the weak scenario sometime I feel the actors doesn't know what they are talking about a good scene writer will add more value to it .
Comment #5
Strider12471 said: Some of these comments about KL, come now. He is one of the better male talent that brazzers has employed since I've been a member. Does it get annoying when he's in every scene fucking every hot chick, yes. However there is clearly a shortage of quality male talent around. Jez Christ? Mr Pete? I'd rather have KL do both of those scenes, I guarantee they would be better for it! Outside of Johnny Sins, KL, Jordan, Voodoo and Billy who else does brazzers have right now that can deliver on consistant basis with the ladies? OK enough about the male talent around the site...I think Puma is still one of the top pornstars on brazzers. Is her voice annoying when she fucks, it's all relative. That aside she does everything (but anal) and does it well. Rating this scene a 9 out of 10!
Puma Swede BigTitsInSports Picture Gallery