Big tits in sports presents: Nikki gets a full body workout and a facial from her personal trainer
Scene Title: My One O'Cock Training Appointment
Storyline: Nikki Sexx hired a personal trainer to make shore her two girls are ready for the boys this summer. As she pumps hard throughout her workout her trainer Johnny is mesmerized by her gigantic tits and plops his face right between them. Obviously Nikki is O.K with this and ends up getting Johnny's special workout.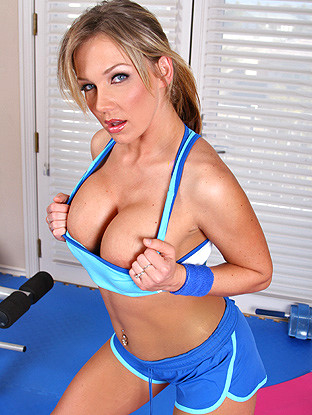 Nikki Sexx BigTitsInSports HD Video Trailer
What people are saying about: Nikki Sexx - My One O'Cock Training Appointment bigtitsinsports scene
Comment #1
High5 said: Nikki is a joy to watch but being a tit site, Brazzers in this scene overlooks the fact that Nikki happens to have a really wonderful behind and when she sways and wiggles that around, she is really top of the pops. This scene is typical Brazzers: Go in and moan and let the dude do the fucking. However, Brazzzers, that is not enough. Not enough at all. Nikki is very wonderful but her sexy beaty is missed for most parts in this scene.
Comment #2
wilson305 said: hey nikki why do you change your white socks to orange you should leave your white ones on in this video i just thank you look sexy in white lowcut socks
Comment #3
funkdoc said: Love the trainer/client scenarios. Man is Nikki hot, and yes, looks like she lost some lbs. I think she looks fantastic. Her maneurisms with the flirting and her acting flustered and tired made this really work in the setup. I was totally loving all the tit-play in the beginning, and any scene where Johnny is pounding away is a good one. Loved the use of the ball too. Great job.
Comment #4
showstopper19 said: Hey nikki just be who you're the more experience you get in front of the camera the better you can bring it girl your hot! When you got a guy like johnny sins who is ripped in shape and with a loaded pistol i'm not sure many girls could go long...lol
Comment #5
Jordan72 said: Well Nikki you always have a great scene and yeah I agree who cares how much you weight, you are awesome. I will say those orange socks gotta go. Some of us like those bare feet so let em breath a little. But otherwise this big tits in sports scene and all the others are completely awesome and thanks for the great work.
Nikki Sexx BigTitsInSports Picture Gallery