Big tits in sports presents: Jessica and Shawna fucking for their pink slipped car
Scene Title: How to Settle a Bet
Storyline: Shawna challenged Charles to a one on one drag race and she put her own car on the line if ever she was to loose... and she did of course!!! Not willing to give her car away, she tries to fuck her way out of this one and her girlfriend Jessica won't let Charles have those tits for himself...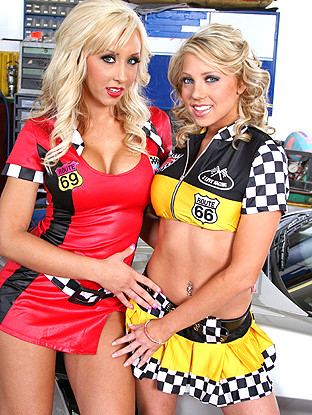 Jessica Lynn and Shawna Lenee BigTitsInSports HD Video Trailer
What people are saying about: Jessica Lynn and Shawna Lenee - How to Settle a Bet bigtitsinsports scene
Comment #1
robertomalone said: If you like seeing a pair of sexy young blonde babes in natty little racing leather outfits getting a right good seeing to, you need to watch this scene, believe me. Not a bad afternoon's work for our friend, Mr Dera, I'd say! (OK, fair's fair; credit where it's due: Great job, Charlie Boy!)
Comment #2
BooserMan said: Shawna is once again amazing but I cant believe they let Charles "The Douchefagg" Dera bang these two incredible women
Comment #3
sirsol said: good scene. who cares about story lines, theyre funny as far as they go but thats not why ppl watch. but i have to say dera comes up with some funny lines - "play the harmonica" seemed he was more into jessica than shawnee but i cant blame him for that she is the hotter girl, not that shawnees not hot
Comment #4
walter815 said: This was a good but not quite great big tits in sports scene. The girls looked great and appeared to be having fun, but it looked like the performers and cameraman were challenged at times by the props. In particular, the cowgirl and reverse cowgirl looked difficult.
Comment #5
BiV_aka_funkdoc said: I see what MJ is talking about with the storyline, but it involved my baby Shawna Lenee, so I am willing to forgive, lol. Keep these great sets coming ZZ. I thought Jessica shoulda played with herself a little longer. I know the fucking on the car isn't easy for the talent or for the best angles, but I think they were able to make it work. Plus Lenee makes any scene a notch better with her performances. J. Lynn is no slouch either, she did her thing. I too feel the sexy racing gear is getting played. That wardrobe can be replaced with some lycra pants or something. But still a good scene.
Jessica Lynn and Shawna Lenee BigTitsInSports Picture Gallery