Big tits in sports presents: Hot brunette with huge tits gets slammed hard and deep
Scene Title: Corner Pocket Pussy
Storyline: For many years the pool tournament of forgotten souls involves more than balls and cues. This year Isis has brought a lot more to the table. Shes smoking hot and her competition doesn't stand a chance against her gracious breasts. Those twizzlers are getting her into all sorts of trouble. Isis winds up with more than she can handle. Her opponent whips out his secret cue to pounds his 8 ball home in her lucky pocket.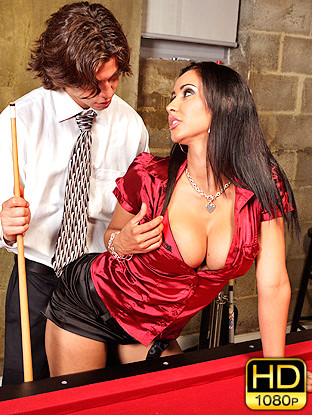 Isis Love BigTitsInSports HD Video Trailer
What people are saying about: Isis Love - Corner Pocket Pussy bigtitsinsports scene
Comment #1
johnlindy said: Oh My God, does Isis ever get me horny. I love her in that low cut shiny blouse in this scene she should wear shiny tops more often. Please bring her back for a lot more scenes as I find her to be one of the hottest babes in porn.
Comment #2
TheKINGPIN said: Keep the scenes with her coming! STUPID HOTT!!!!! Loved the big tits in sports scene. I love playing pool. That would have happened to me I could die a happy man. MORE ISIS!
Comment #3
johnlindy said: Good God is she ever hot! I really love hot babes in shiny silk blouses and this one looks sensational on Isis. Please show lots more of her as she's gorgeous.
Comment #4
xxx69 said: excellent performers guy n girl but wors director n cameraman!!! the whole movie full of close ups!! i spent watching all of the scenes hoping to see a head to toes scene that never came!!! 4 points for the excellent performance of beautiful girl n hot guy!!! but direction n filming man oooooooooo!!!!
Comment #5
bryanslions said: Isis is my favorite porn star today. She has been at it since her debut in 2001. She is near perfection....great face, tits, best ass in the biz, squits, doms, fucks with a strap on like nobody else period! Her only negative traits is that she cannot deep throat, and although she takes great facials she will not swallow. Maybe one day, you never know?
Isis Love BigTitsInSports Picture Gallery