Big tits in sports presents: Ice La Fox loves to play with big balls
Scene Title: Dirty Player
Storyline: Ice la Fox challenged her bowling instructor Jordan to a quick game. She is very competitive and wants to win no matter what. Knowing that Jordan is dying to see her big juicy tits, she flashes him during the game to make him lose his concentration. In the end, she wins the game but still lets Jordan put his big fat cock between her gorgeous tits and fuck her pussy hard.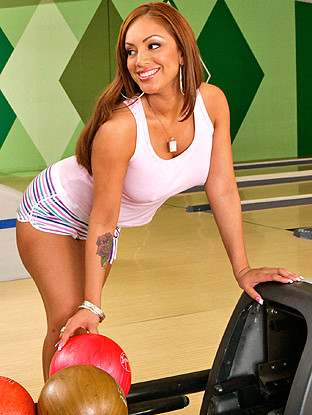 Ice La Fox BigTitsInSports HD Video Trailer
What people are saying about: Ice La Fox - Dirty Player bigtitsinsports scene
Comment #1
3m8SynN7fUl022 said: I agree with the critiques, Ice LaFoxxx was beautiful with her bodacious ass & pert, thick-nippled, naturally small breasts. The industry has made the mistake of telling the performers that silicone equals success; Ice as beautiful as you were, those overstuffed water balloons ruin what you had going for you...
Comment #2
BiV_aka_funkdoc said: Nice set. Loving the bowling alley sex. But 9 minutes before any action starts? That left only 15 minutes for sex, which was a major dissapointment. KF's part wasn't necessary at all. I am dissapoointed in Ice's new look, and I'm not talking about her tits. Nonetheless, it didn't stop her from a top performance. Her ass is not what it used to be, but the cowgirl was still hot as it always is from her. I hope she's back for more, and I really hope she hits that treadmill. Wait, that could be her next scene for BTIS..ha
Comment #3
MissSnoogans! said: Ice has the coldest face. This chick is straight up stunning with those huge eyes and Hershey kiss nipples. I love the editing going from lane four to one. Kory is looking very hot in this. Guess I was turned on by him being stoned. The sex wasn't bad. I've heard some serious braggin on the bowl head from Ice. I saw more hand action than mouth. She could use some toning up but it's not out of hand yet. Snoogans!
Comment #4
mrdaley said: I appreciate the production values! B Roll, continuity and a short music montage!!! HAHA. Its easy to show just sex so I appreciate the thought and execution of the video. Keep em coming. Need an extra editor? HAHA. I have done this before.
Comment #5
Savant3 said: this big tits in sports scene was alot better then i thought it was going to be
Ice La Fox BigTitsInSports Picture Gallery