Big tits in sports presents: Helena plays with a better pair of balls instead of playing tennis
Scene Title: Game, Set & Smash My Cock Deep Inside Your Pussy
Storyline: Keiran has been hired to coach Helena in a few tennis classes for her to learn the basics. After an aweful performance on her part, Keiran decides to retire with Helena for a nice Jacuzzi and relax his muscles and maybe use other muscles on her. She is a little hesitant at first but it doesn't take much convincing on Keiran's part for her to go down on his cock and ride the waves of pleasure.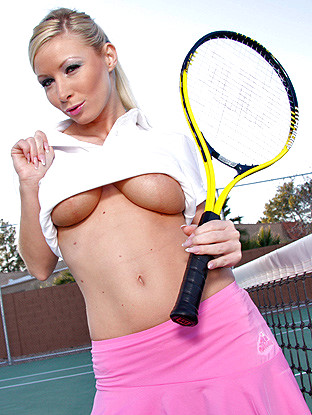 Helena Sweet BigTitsInSports HD Video Trailer
What people are saying about: Helena Sweet - Game, Set & Smash My Cock Deep Inside Your Pussy bigtitsinsports scene
Comment #1
BiV_aka_funkdoc said: I'm not gonna comment on the setup, cuz don't think this girl understood a word of English at all lol. Don't matter, she's damn hot with a sick body to go along with it, and i can't beleive she wasn't wearing a bra. KL banged her all over the place. I particularly enjoyed her reverse cowgirl. Glad to see we have another scene coming with her, hopefully there's more
Comment #2
stevogt said: Wow!!Helena is one hot horny fucker!! She looks like she's both scolding you and laughing at you,in a nice,sexy way,at the same time! MORE Helena PLEASE!!
Comment #3
bansheee69 said: i like the fact that this little ero slut's english is bad...........fuck she's hot.what a body on her! NICE TITS!! put some stockings and heels on this fuck bunny and lets see some more of her!
Comment #4
MissSnoogans said: It's safe to say that Helena Sweet wasn't strong with her English. The story could have been somewhat better. I mean if you are gonna suggest to get in the water to relax your muscles, then that's fine. I couldn't believe she didn't at least have on a sports bra. Her body was absolutely outstanding. Maybe as Keiran rubs her shoulders and she gets aroused. Then she notices his humongous boner. Other that it being really bad lighting, the sex was superb. I really enjoyed the slow stroking during the mish. She has a great ass for riding cock too. Best position was the unique doggy/reverse cowgirl. That was straight heat. Snoogans!
Comment #5
cecebuns said: Mepnorris, I thought that was what porn was. If you want great acting, sappy romance, intricate or 'good' plots, exotic scenes and locations, expensive costumes, you need to rent Titanic or Mama Mia. I hear the first is a great film. This is a porn site, so you won't find all that too often, just good sex and usually good looking actors. And this is coming from a girl, so I can only imagine what other guys are thinking of your comment.
Helena Sweet BigTitsInSports Picture Gallery