Big tits in sports presents: Gina Lynn fucks the competition for the trophy
Scene Title: Smash my Tits and Pussy!
Storyline: Longtime rivals Gina Lynn and Keiran Lee are competing in the National Ping Pong Championship game!The shit talking between them in the beginning made this game even more intense!During the match they were rallying back and forth but the sight of Gina's big tits bouncing proved to be too distracting for Keiran. He was furious that the judges would allow her to play with her boobs popping out!Gina gave the sore loser a nice concession prize, a taste of her big tits and sweet pussy!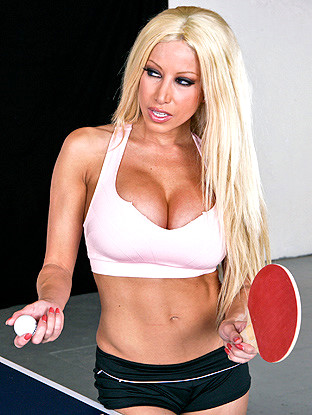 Gina Lynn BigTitsInSports Picture Gallery
What people are saying about: Gina Lynn - Smash my Tits and Pussy! bigtitsinsports scene
Comment #1
BlndMilfLvr said: Good one! Gina lynn is always a winner as in any big breasted blonde MILF. This is your bread and butter. This is a keeper. I'm not a "man fan" and you keep using the same dudes over and over and I understand why BUT they are not the stars and should remain low key. Remember that. Big fake tits and Blonde is what most guys go for.
Comment #2
MissSnoogans! said: Gina Lynn looks spectacular all the time. For some strange reason it's like she has loss some heat with the members. I mean sure she gets pretty good rating. I just hardly see her name mentioned much anymore. So anyway the story was decent. Seems to be alot of objects landing in cleavage these days on ZZ. This big tits in sports scene had quite abit of editing done. I mean they would already be in positions before they really got moved. I love watching her magnificent ass ride cock. I don't think she did that well riding but the view was still nice. Nice beat down by Keiran, haha. Snoogans!
Comment #3
BiV_aka_funkdoc said: The story was irrelevant to me here, but as MJ said, all these objects landing or being placed in the titties is starting to get played. The real treat here was Ms Lynn in all her glory in that sports bra and shorts, fuccckkkkkkk. That right there is the reason this site is great. The sex was kinda slow, but I was diggin the titty-play and FINALLY you guys put one of the best asses ever to work with some CG, and the way she grinded that dick was a beautiful thing. Keep Gina Lynn coming back, we don't see enough of her.
Comment #4
Khan said: This was a great scene. Fuck the haters. The story was cute, Gina Lynn looked good, sex was nicely choreographed (I prefer scenes where he sucks her boobs, eats her pussy, and then fucks her, in that order). No complaints.
Comment #5
tittieman said: Gina is sooooo hot but my god that was so disapointing shit the only scene that I was really looking forward to all week. This was probably her worst one that I've seen her in. Instead of this why don't you guys fix the yachts or cocks one so that it quits fast forwarding. Hopefully she comes back soon to set things straight and make up for this one. A 3 at best I mean she is still damn HOT!!!!!!!!!