Big tits in sports presents: Codi Bryant gets hit by a ball and then gets fucked
Scene Title: Catcher Cum
Storyline: There is an intense baseball game going on today at brazzers feild and guess who is next up to bat. The beautifully stunning Codi Bryant brings a lot to the plate folks, they say that her rack can handle any pitch. We'll there ya have it I guess everything you hear isn't true Codi took that pitch right in the tits and she is out for the count. Luckily Johnny Sins the catcher is a certified medical doctor, so Codi has nothing to worry about, except getting fucked really hard for a half our or so.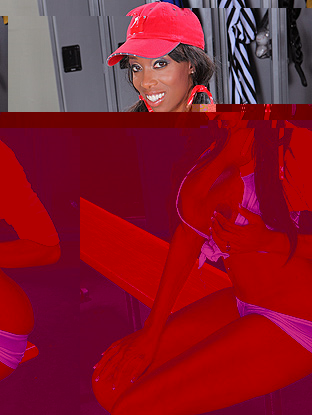 Codi Bryant BigTitsInSports HD Video Trailer
What people are saying about: Codi Bryant - Catcher Cum bigtitsinsports scene
Comment #1
I never got off to a black girl before, but damn Codi Bryant is simply B E A U T I F U L. Great ass great tits great face... fucking perfect. Keep up the good work!
Comment #2
I know this is a titty site, but once you can show her booty in those little white shorts, come on ZZ. Pretty good scene, she has a great mid-section, wish the other girl could have made a threesome out of this one. 7 out of 10!
Comment #3
Nice to see a black chick get fucked by a white dude. Althought I think the interest level is a small sector, their is definately a place for this type of porn.
Comment #4
Not saying the time wasn't spent well in the locker room. The breast massage was abit overdone. That time should have been spent on the baseball diamond. Codi steps into the batter's box and takes forever stretching. Which gives more reason for Angelina to hit her with the ball. Anyways first off let's thank the director. Finally someone that didn't spend positions totally focused around her titties. She is very giving in the head department. The POV action was amazing. I loved watching that big cock penetrate her in mish. It appears to be a new booty shaker in doggy to the fold. The action was still good in reverse cowgirl and T-bone. Greek God please keeping delivering those wonderful cumshots. Snoogans!
Comment #5
Codi Bryant and Lacey DuValle are hot! And Priya Rai is the hottest Indian pornstar ever! Fuck you racist bastards! I love women of all ethnicities and I want to see more ethnicities represented on this site. Brazzers is doing good representing hot white and Latina pornstars. But you should start representing the other races just as much. Make this a truly international site!
Codi Bryant BigTitsInSports Picture Gallery