Big tits in sports presents: Brooke starts by playing basketball and finishes by playing with billy's balls
Scene Title: Swish or Strip!
Storyline: Brooke Belle is unable to beat Billy on the basketball court because he doesn't stop playing dirty. Billy proposes to play a new game called 'TIT,' which is exactly like the game 'HORSE,' however the only difference is the loser has to undress. Finally, Brooke gets to show her real talent when playing with balls.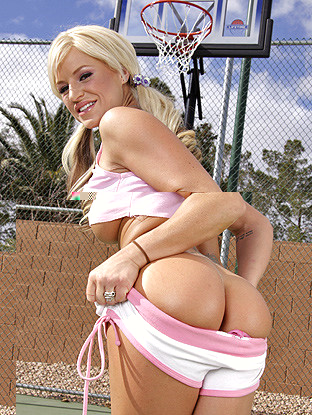 Brooke Belle BigTitsInSports HD Video Trailer
What people are saying about: Brooke Belle - Swish or Strip! bigtitsinsports scene
Comment #1
swedecoal said: This scene is the perfect pairing of cute meets deliciously dirty. Brooke works the innocent girl attitude like a charm until it's time for the dirty deeds to be done dirt cheap. Then...look the fuck out! She unleashes some oral fury and some awesome bounce on Billy. Well done! No game of HORSE I've ever played ended so well. Plus, the pig-tail look on Brooke was out-of-this-world sexy!
Comment #2
zelda8 said: Brooke is soo fuckin hot but she couldn't even b fucked properly because he kept havin to pull out. Such a wast because she is amazing!
Comment #3
MissSnoogans said: Yes a Phat Packer in the Hiz-ouse. Long time no see Brooke Belle. I didn't care much for the story. I was sorta impressed by Billy in this scene. He was hurtin for certain but he did better than usual. I don't think he was trying to get in Brooke's ass. Hell he can barely handle pussy. She would have rode his cock until that couch broke if he could handle her. Just lovely set of skills whether it be reverse or regular. That doggy was pretty hot too. I loved how her boobs were shaking during the mish. He tried to force that cock out the back of her head. Very good sex, which is shocking. Snoogans!
Comment #4
nestropolis said: I usually dont comment but I feel the urge. This chick is rediculously hot, well built, and as you can see is looking for some hard sex. If the stud (Billy in this case) cant do it you need to either take a perk or vicatin to do the big tits in sports video, or just get some one who can do her. I could imagine the difficulty, but if all you do is fuck hot chicks, it should become easier. Just my two cents
Comment #5
danetown said: I felt sorry for brooke, all she wanted was get a good fuck and the guy couldn't delivered; and the worst part is he's getting paid for it, what a waste. I have to agree with the other comments about this guy.
Brooke Belle BigTitsInSports Picture Gallery