Big tits in sports presents: Krissy Lynn in an outdoor jog and fuck
Scene Title: You Like To Jog, I love Your Juggs
Storyline: Krissy is a sportive girl and she wakes up early on the weekend to do her daily run in the park. Keiran is also doing a run in the park and is stunned by Krissy's beauty that he runs along with her but stares at her tits non-stop until she asks if he wants to see them... Keiran wants way more than just look at them. He'll worship them and give her a pounding that she will be dreaming about for a long time to come.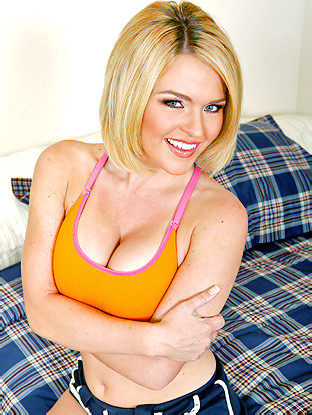 Krissy Lynn BigTitsInSports HD Video Trailer
What people are saying about: Krissy Lynn - You Like To Jog, I love Your Juggs bigtitsinsports scene
Comment #1
djprime883 said: damn!!! i never comment scenes but this one is the best i have ever seen from you guys damn real well done
Comment #2
badboy316 said: i love the part where krissylynn said i dont even no u but she still fuck him like a good slut should god i want more of krissylynn
Comment #3
usafrugy said: The running is hardly believable. I run marathons, and I know that any serious runner does not wear a metallic watch while running, shorts that go past their knees, or carry a bottle of water, let alone a GNC protein shake mixer full of water. Oh well, the fucking was awesome!
Comment #4
mlo8252 said: I'm not a big fan of Krissy but she was amazing in this big tits in sports scene. I loved that outfit too and watching her dress infront of the mirror was hot.
Comment #5
MissSnoogans said: Easily could have gave them both a story. Morning joggers that have passed one another off and on for the past month. Since both of them are shy, they agree that today they are gonna make an effort to say more than hello. Once they get to chatting and feel some chemistry one thing leads to another. Still could have finished the same with Keiran just running game. Anyway I knew it was on when she got powerbombed into the bed. People just like to see penetration when they love porn. Listen to Krissy through the scene. She was about watching him fuck her in mish. Then she couldn't help herself seeing how she rode his cock in both cowgirls. Nice cradle, piledriver, and doggy action here too. Snoogans!
Krissy Lynn BigTitsInSports Picture Gallery