Big tits in sports presents: Claire and Dylan in the battle of Big Tits
Scene Title: The Gladiators
Storyline: After a long bitter fight, Claire and Dylan jousted their way into victory. No battle is won without a turning point and this one was no different. Boobs, big big tits; the element that took their opponents off balance and made it an unfair advantage. They seized victory and after collecting their spoils they wanted more. It wasn't honor nor pride but a clean icing in their mouths; a real quenching taste of victory.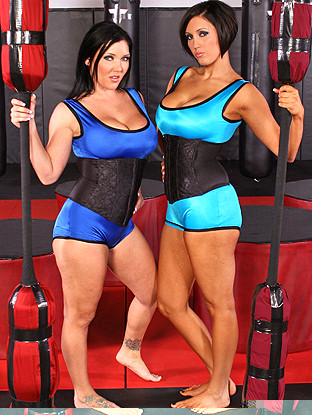 Claire Dames BigTitsInSports HD Video Trailer
What people are saying about: Claire Dames - The Gladiators bigtitsinsports scene
Comment #1
ZZEurope24 said: I love Dylan Ryder. Shes a gorgeous curvy lady with amazing tits and a nice big sexy ass !. Claire Dames is just as good. Both girls took a good pounding by two of the best guys brazzers has !. Awesome seen, loved the setting too.
Comment #2
BiV_aka_funkdoc said: Wasn't too impressed here. The good thing about this was the one-piece outfits the girls were wearing. I'm no fan of Claire, and this didn't change that. Dylan is hot, but still this fell short. Instead of just going at it with their own partners, the girls should have gotten with the men from the other team in order to piss each other off. I do like the production in the beginning though. The camerawork was shoddy imo; not enough of all 4 in the scene at once. Too often it looked like a 1-1 scene switching back and forth between couples. All good tho, you guys have been killing it lately.
Comment #3
rocc00 said: Claire is hot & Dylan is hotter & I'm hottest.
Comment #4
njking said: this was a fun concept. I liked it and thought it was hilarious when Dylan tapped out while she was get hit from the back.
Comment #5
ballroom1 said: With all the bald bare pussy on this site, it would be great if we can have some shaving scenes once and a while. The sight of a well lathered pussy and the slow strokes of the razor through pubes, absolute bliss.
Claire Dames BigTitsInSports Picture Gallery