Big tits in sports presents: Powerball bitches getting their game on on big cocks
Scene Title: POWERFUCK
Storyline: The top two powerball players Abbey and Charisma are chest to chest for the battle for championship. As things begin to heat up between them, things get a little violent and Charisma's real tits get injured. The guys on the side lines become concerned and teach them the importance of being a good sport.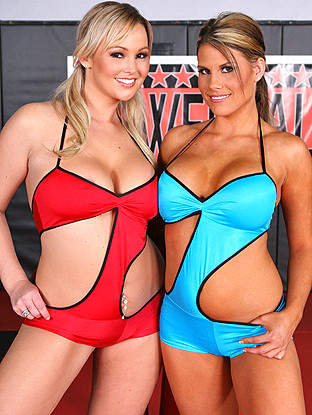 Abbey Brooks and Charisma Cappelli BigTitsInSports HD Video Trailer
What people are saying about: Abbey Brooks and Charisma Cappelli - POWERFUCK bigtitsinsports scene
Comment #1
BiV_aka_funkdoc said: Why does Charisma always get into fights in the locker rooms? So I guess you guys are doing scenes based on events from American Gladiator. Abby was lookin good, but it seems as if she put a lot of weight back on. I think Charisma is super-hot, and I thought she was by far the better looking of the 2 here even though I prefer her with the black hair. The constant switching was really good and nice camera work keeping all 4 in the frame for the most part.
Comment #2
MissSnoogans! said: This story and big tits in sports scene was too funny. I couldn't stop laughing it was so hilarious. You gotta love how physical the chicks were getting. This makes the second time Charisma has gotten into heated confrontation. I like her so much better with highlights. The outfits were stunning on the ladies. I knew this scene would be difficult to film because it's four of them. The spooning was a great idea being that they went back to it for a second time. The doggy wasn't a good idea. Try side by side and the guys in frog like stance. The different variations of cowgirl had it's good and bad moments. They were rocking that cock but the angles weren't great. The best part was the switching of partners. Abbey is a star on the raise. Snoogans!
Comment #3
zman251 said: Charisma is hotter with every new scene, but I gotta say that Abby Brooks seems to be letting herself go. Theres a not so thin line between "Full - figured" and "Fat chick"
Comment #4
sirsol said: you need some standards -all industries have them. abbey brooks is far too fat. either she loses the wt or she has to get lost. charisma is hot. preferred the darker hair though
Comment #5
zucchiniman32 said: Finally they added CHARISMA to this Big tits in Sports . I wished she contributed in that other scene in which she was in, but was not credited.
Abbey Brooks and Charisma Cappelli BigTitsInSports Picture Gallery